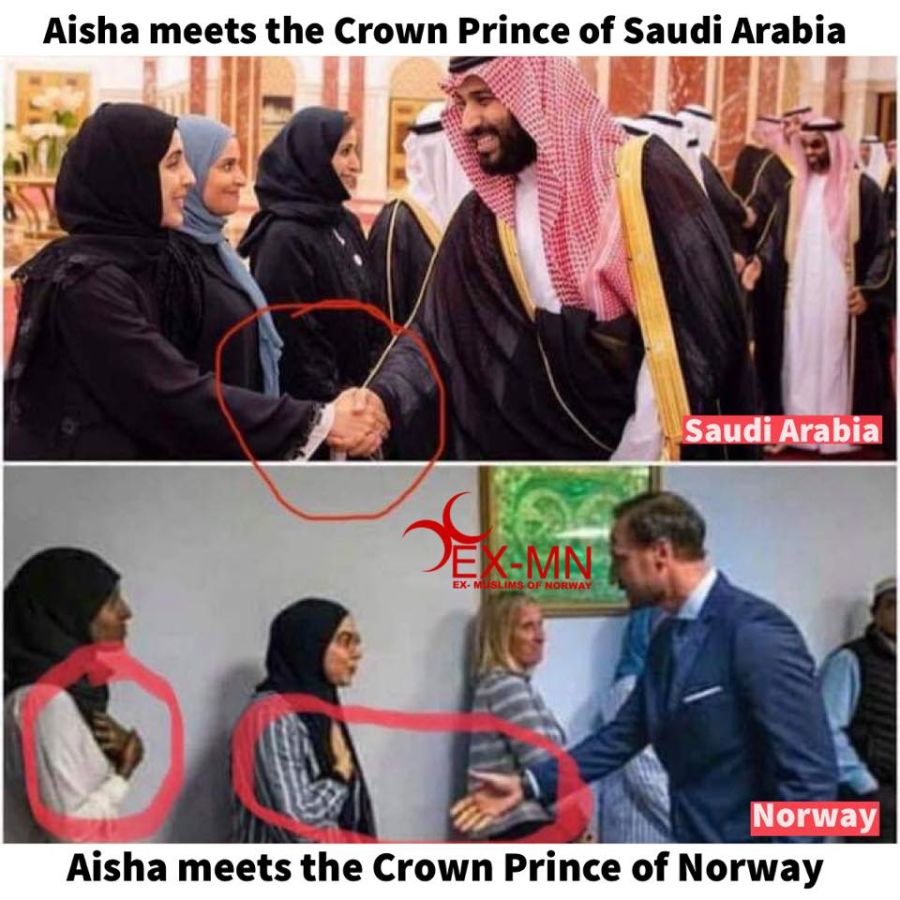 Notis
These two women are not the same person
On January 2nd, the anti-muslim group «Ex-Muslims Of Norway» posted two conjoined images on Facebook. The images appear to show that the muslim woman «Aisha» has an inconsistent attitude towards handshake greetings.
The English text published with the picture states that «The hypocrisy and double morality have no limits in !slam». The post was shared more than 600 times in 24 hours, and is receiving reactions from all over the world. Many people appear to believe that the pictures show the same woman, since both are referred to as «Aisha». However, the name «Aisha» may be used both as a generic term for «muslim woman» and as a female name.
The two pictures do not show the same woman. On the uppermost picture, the Saudi crown prince Mohammed bin Salman shakes the hand of a guest as a greeting during a summit in Jeddah. The photo was taken by the prince's own photographer in 2018. The woman he is greeting is not identified.
The picture below shows a controversial event (in Norwegian) that took place in the Norwegian municipality Baerum, outside of the capital Oslo, on August 22nd 2019. At the time, Zeliha Acer of the Islamic Council Norway, refused (in Norwegian) to shake the hand of crown prince Haakon Magnus of Norway when he visited the al-Noor Islamic Centre, where right-wing extremist Philip Manshaus had recently attempted to carry out a terrorist attack.